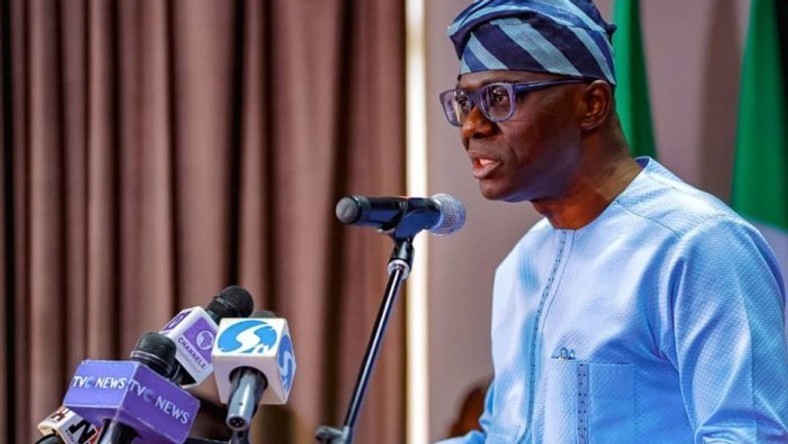 The Governor of Lagos State, Mr Babajide Sanwo-Olu, has blamed the challenges of slums and shanties in the state on those coming into the state aimlessly.
He stated this on Wednesday during his appearance on Channels Television's breakfast programme, Sunrise Daily.
"Thousands of people come into the city without plans, and we do not have any border control to mitigate this," the governor decried.
He added, "A lot of people come into Lagos and they really don't even have a place (to stay). They do not have a means where the next meal is going to come from; they do not know where they are going to sleep and that's the reality."
A Huge Challenge
The governor, who gave an overview of his plan for the environment, stressed the need to put measures in place to prevent a situation that could lead to population explosion.
He noted that one of the efforts by his administration was to appeal to residents to ensure they register with the Lagos State Residents Registration Agency (LASRRA) for proper capturing and planning.
Governor Sanwo-Olu also disclosed that the government has been sending out officials in the middle of the night to sensitise those living in shanties across the state.
On the contrary, he noted that they have moved in to pull down slums under the bridges, only to find out that such structures were rebuilt shortly after.
"People have started to build on the Right of Ways but it is a corridor that has been preserved for future development. We are going to take them out," the governor insisted.
He stressed, "We go round 2am, 3am to ask 'why are you under the bridge, why are you sleeping here?' … it's a huge challenge.
"People erect makeshift shanties but you also have NGOs that say you can't remove them. We want to provide better amenities, but the truth is that the government cannot do it alone.
"We need to continue to engage with the private sector to see how we can provide job opportunities and skill acquisition.