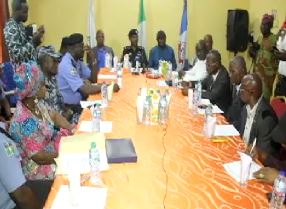 In a bid to curb vandalism at the nation's port, the Nigerian Police Force has agreed to partner the National Association of Government Approved Freight Forwarders to make it achievable.
The agreement was sealed when the Commissioner of Police, Ports Authority Command, Cyril Okoro met with members of the association in Lagos.
Following reported incidences of the resurgence of cargo pilfering at the port otherwise known as Wharf rats, the Commissioner of Police, Ports Authority command, Western Zone, Cyril Okoro says that by further improving on access control to the port, his command would have made sure that only authorised people have access to the port.
Both parties agreed that access control is key in tackling the worrisome trend.
The leadership of the freight forwarding association highlighted the importance of profiling port users, while also underscoring the need for the port police command to ensure maximum security at all times.
The Police also promised to synergise with port users towards achieving smooth operations at the seaports.