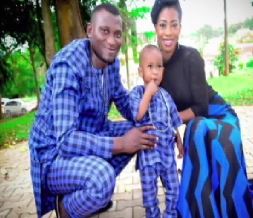 The police in Ondo State have announced that they are yet to get any concrete lead to effect any arrest regarding the case of a missing baby, Kolawole Gold.
Baby Kolawole Gold was declared missing during a programme at Sotitobire Church in Oshinle Quarters, Akure, Ondo State on Sunday, 10th of November
The one-year old baby was kept in the children's department, but those in charge failed to produce him upon request by the parents.
Eleven days after, the boy is yet to be found, despite series of allegations.
His disappearance remains a mystery.
The parents of the boy are accusing the police of failing to properly investigate the matter.
Module Kolawole, mother of the boy also faulted the manner the police are carrying out investigation into the matter, which she described as shoddy.
But the state police command says it is not shielding anyone in the case.
The Commissioner said the command has not got concrete facts to effect any possible arrest.
As police continue with their investigation, the parents of the missing boy are running out of patience and they cannot wait to welcome their boy back home.