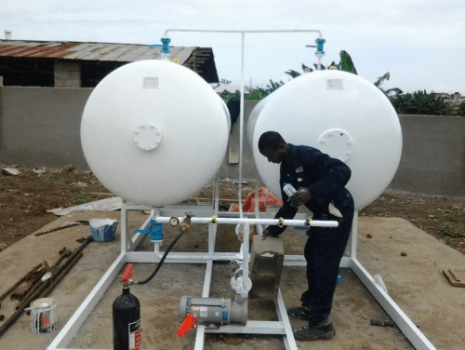 The Department of Petroleum Resources has embarked on mapping of liquefied petroleum gas refilling plants in Ogun State. The exercise is to enhance safety, conduct proximity analysis and to enhance surveillance and enforcement.
TVC News Kazeem Olowe reports that as one of the strategies to reduce disasters caused by liquefied Petroleum Gas in the society, DPR has deployed technology to monitor and evaluate gas plants that conform with the required standard and those operating illegally in the state.
The mapping system according to the Operations Controller of Abeokuta field office, reveals that about 70 per cent of the Gas facilities in the Ado Odo
Ota Local Government Area are illegal.
The agency also confirmed that it has embarked on massive engagement and awareness creation for stakeholders in the oil and gas business.
Leader of the cooking Gas Skid Proprietors Association in Ogun State said they are ready to cooperate with the agency.
In line with the federal government's policy and aspiration to encourage gas utilisation in every parts of the country, the agency warned that
citizens must ensure safety in domestic gas utilisation.