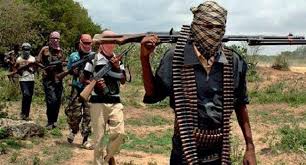 Five persons from a family have been confirmed dead during an alleged invasion of Boko haram fighters in Goniri village, Yobe state.
Some Locals confirmed to TVC News that the affected victims died as result of air strikes and an intensive gun duel, between the fighters and security operatives which lasted for hours.
Sources in the affected area say the military formation in Goniri community was almost over-ran by the insurgents adding that the resilience of the Nigerian soldiers and other security operatives made the repelling of attack possible.
Locals in Goniri community are leaving the town for fear of the unknown. They are calling on government to do the needful to completely halt the boko haram conflict, which has ravaged their sources of livelihood , and several persons dead and many, displaced.
Goniri village is about seventy eight kilometres away from Yobe's capital city, Damaturu.